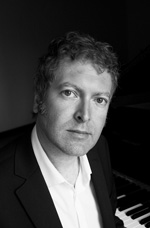 Andrew began composing at an early age, writing pieces for a wide range of ensembles and receiving awards for his work. He studied composition with Richard Steinitz at the University of Huddersfield where he was awarded the Ricordi Prize for Composition. At the University of Sussex, with a full award from the British Academy, he studied with Michael Finnissy and in Jonathan Harvey's composition class, receiving the Stockhausen Foundation award for composition. Andrew had early successes with pieces such as "Duende", for 17 instruments, which had its London premiere at the Barbican, performed by the London Sinfonietta. His works have been premiered by a number of groups including Ensemble Firebird and The Balanescu String Quartet and he has been a featured composer on BBC radio 3's 'Hear and Now' programme. He has recently undertaken further studies with Brian Ferneyhough and Beat Furrer in Darmstadt.
Having a broad interest in other genres, Andrew diverted several years of musical activity to Jazz and Film music. In the Jazz genre, he has composed for a variety of ensembles, most notably his own trio and sextet groups. As both composer and performer, he has appeared at festivals and concerts in the UK and Europe. His compositions often reflect the attitude of the other music in his output, balancing improvisation with the weight given to the detailed writing and compositional development within the music. In the film world, his scores have been heard at festivals all over the world including those in Los Angeles, New York, London and at the Taormina International festival in Sicily. He has also composed for theatrical, multi-media and radio productions and has won many awards including Best Impact Of Music In a Feature at the 2008 Park City Film Music Festival, Utah (during Sundance) and the Silver Remi prize for Music at 2006 Worldfest Houston, Texas.
Andrew's recent work marks a return to contemporary music with pieces such as 'The edge of rain and sea' and 'Distant Spaces'. A particular focus has been the integration of IRCAM's research applications into his compositional strategy, which has enabled a connection between frequency-based structures and figural ideas in his music. His continued studies in this area have been particularly inspired by research into acoustics, with the application of the techniques of sound analysis, re-synthesis and transformation playing an important part in his aesthetic approach.